Our
Installations
General Air services has offices in all international airports of the country as well as a cargo sales and ticket sales office in the center of Santo Domingo.
Head Office - Administrative and General Accounting
Santo Domingo
Max Henríquez Ureña and Winston Churchill
Salco Building, 2nd. Floor.
Phone: (809) 621-8888
Fax: (809) 985-8588
E-mail: management@generalairservices.com
Sales Offices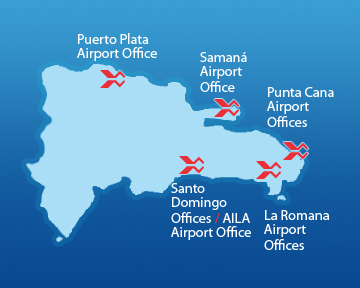 Santo Domingo City Ticket Office (CTO)
Max Henríquez Ureña, Salco Building 2nd Floor
Santo Domingo, Dominican Republic.
Phone: (809) 621-7777
Fax: (809) 338-7776
E-mail: paxsales@generalairservices.com
Location:
Our office is located in front of the American Airlines building
and Continental Airlines offices, a prime location
for airlines in Santo Domingo.


Facilities:
The office is fully equipped with the latest software and hardware,
as well as comunication technology.
Sales Force:
All our employees are fully bilingual in English and Spanish and posess
excellent knowledge of the air transportation market. All our employees have strong sales and customer service skills.
Santo Domingo Airport Ticket Office (ATO)
Aeropuerto Las Americas
Santo Domingo, Dominican Republic.
Phone: (809) 549-0404
Fax: (809) 549-0348
E-mail: sdq@generalairservices.com
Puerto Plata City Ticket Office
Km.1 Autopista Puerto Plata - Sosua
Plaza Turisol, Local 32
Puerto Plata
Phone: (809) 320-8100
Fax: (809) 320-8225
Pseudo IATA: MP 92-980042
E-mail: pop@generalairservices.com
Punta Cana
Aeropuerto Punta Cana
Phone: (809) 685-9380
Fax: (809) 959-4012
E-mail: puj@generalairservices.com
La Romana City Ticket Office
Autopista La Romana - Higuey
Plaza El Limón
La Romana
Phone: (809) 813-6100
Fax: (809) 813-6077
E-mail: lrm@generalairservices.com